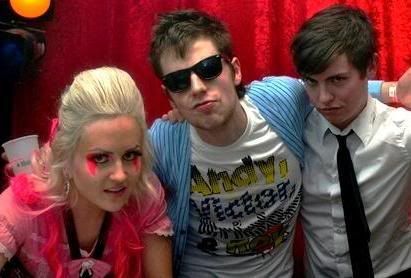 SS: D++ (Danielle Polk), Gatsby (Daniel Stadulis) and Buddy Ravell (Eli Glad)
A
lmost a year ago, I remember dining with a girl friend of mine at our favorite vegan restaurant Downtown, and nervously pitching to her what seemed a brilliant and innovative idea at the time! I said to her, with a brilliant grin on my face, "We should DJ! Me, You, and Someone else! We can wear colorful clothes, play electro and throw a totally sick hipster party! We can make it big! People are dying for shit like that around here!" Do you see where this is going??? Well, just as I was going to close my mouth, so I could give my friend a moment to consume the idea and answer back, she stops me with a vicious hand wave… and She says, "Stop! This guy I know, Eli, just started a DJing group and they're playing at The Blank next week…yeah, you've been out-hipstered!!!"" I hated them instantly! In my mind, they wouldn't go very far! Not a day later did fate come knocking at my door when My MySpace Mail informed me that I had a "New Friend Request!"
Brace yourselves! Low and behold it was thee "D++" of Short Shortzz. All I remember was her amazing default picture, a beautiful girl with ridiculously awesome rainbow colored hair! Little did I know, I was gawking at the enemy! I noticed that she was in a DJ group, the "Short Shortzz" and that in fact it was my friends' friend, Eli's DJ group. I decided to check out the competition at their first real Gig at The Blank…and…shameless to say, I fell in love with them! I was one of the first people to witness the really short-shorts, and first to be enticed into a sweaty dance crazy by their transcendent musical taste. They had everything I ever wanted in a DJ group; Great music, a unique look and total indie-star power! And I say this because when they huddle together just before they hide behind the DJ Decks, you are convinced that they're one of those nerdy cool indie-rock bands! As you can see, I was very wrong! They actually made a great name for themselves! They've played at great dance parties Downtown San Francisco, parties like BLOW UP, NO MORE CONVERSATIONS, Stiletto, AND opened for Bone Thugs and Harmony, and Girl Talk! Not to mention that they have a monthly dance party "1NightStand" at Beauty Bar SF, and are on their good and Technicolor way to the top!

Here is a conversation between the lovely, D++ and I!
We talked about EVERYTHING you would want to know about the SHORT SHORTZZ:



SC: Ok, let's start with the genesis of the trio! When and how did the Short Shortzz form?


D++: Well, A year ago Eli and Daniel kept threatening to make music and DJ together. It was all talk, so I made it happen by surprising them with a show and adding myself to the group without asking permission! I was like, "I added myself to Short Shortzz! Haha!"



SC: And you guys started DJing right away! I remember when you guys first played "Wasted Wednesday" at The Blank Club, now you guys are all over the place! How do you feel you guys have grown since that show?


D++: I've switched over to using Ableton on my laptop, and I feel like I can do more with it than regular turntables or CDJs. So I'm feeling a lot more confident.



SC: The name "Short Shortzz" is genius! It's both sexy and comical. I love it! Is there any story behind it?


D++: Yes. The boys started wearing them at Coachella since it's over 100 degrees there. Then Daniel went nuts and bought ten pairs--every color of the rainbow from American Apparel, and it became a way of life! At Coachella we started putting "zz's" on everything to entertain ourselves in the 8 hour car ridezz. I can't wait for this year... KRAFTWERK!



SC: Both your DJ collective and name is synonymous with wicked style. Do you guys make a conscious effort at keeping that image? Do you guys want to be perceived as fashionable?


D++: No. We don't take ourselves seriously at all... so maybe the fact that we're not too uptight helps in the fashion department? I'm not afraid to wear an ice skater outfit or lots of tutus, despite harassment I might face from people that think that's odd! However, as a group, our main concern is the music and we never talk about what we're going to wear.



SC: Your style alone is very unique! What inspires your fashion flame? Do you look up to any fashion icons in particular? Is fashion something you've always enjoyed?


D++: Yes, I've always been obsessed with fashion. I don't look up to anyone because 99.99% of fashion sucks. I can't think of a single famous person with clothing taste that I admire. For inspiration I look at Hello Kitty, Harajuku Girls, and Betsey Johnson's runway collections. However, as a whole I despise the fashion industry because of its exploitation of women.



SC: That's very commendable! You appear to be very girly. Is it hard being the only lady in the group? Are the testosterone levels to high for you?


D++: There's not too much testosterone, but secretly sometimes I fantasize about DJing with all girls! Mostly, because I miss spending time with girl friends... staying up all night at slumber parties and stuff like that. Hopefully someday!



SC: Your monthly party "1nightstand" at Beauty Bar, tell us more about it!


D++: It's the first Sunday of every month, hosted by Daniel and Eli. I have to stay at home because of school…but they always tell me how much fun they had!!!



SC: What's in the future for 1nightstand? Maybe a weekly party? Any special guest?


D++: We always have amazing guests... Basura from Missingtoof.com and Johnatron and Baron Von Luxxury from Discoworkout.com to name a few! So we're going to keep up the good work.



SC: Do you have any special event that you've played in the last year that really sticks out from the rest?


D++: Yes! Our first Blow Up was my favorite show, because the crowd is so rad and high energy. Also, when we opened for Bone Thugs and Harmony, and Girl Talk, that was exciting because it was our biggest show yet!



SC: Do you guys still keep day jobs? Or are you guys Rock Star DJs day in and out?


D++: Eli is currently looking into working full time in the music industry! Daniel and I are nerdy engineering students, mechanical and computer, respectively.



SC: Who should we be listening to right now? Any music you suggest that we should be downloading, pirating, or buying records of?


D++: Check out Danger from France for new music, and for something tried and true there's The Human League and OMD!



SC: What's the next page in the Short Shortzz saga?


D++: We're doing Blow Up again soon! and I can't fucking wait!!!



SC: And lastly, be honest! Who looks hotter in short shorts out of the three of you in the group!?
D++: Daniel, for sure!



SC: Any final comments?


D++: Just that I hope everyone gets a chance to dance with us soon!

And isn't that all we ask from a DJ? Someone who wants to make us dance, and not just make us want to love them! But let's be honest, how could we not fall in love with a girl in Hello Kitty and two tall skinny boys in short shorts? Impossible.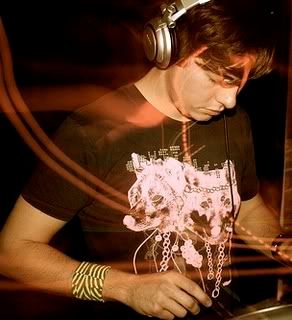 DJ Buddy Ravell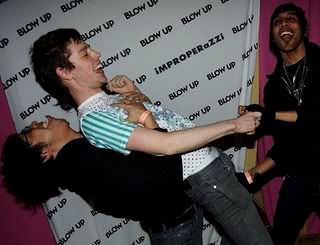 DJ Gastby with the Missingtoof Djs.
DJ D++!
Top Photo By: Mike Madavi for Vaindeer.com
Plus Photos from: jerome pour homme
and Ava Meleksah Berlin